Experience picking your Christmas tree live on the farm, freshly cut for you.
Grow Me Trees Christmas Tree Farm is a new dedicated tree farm in Sheffield currently growing over 20,000 Christmas Trees.
Positioned on the edge of the Peak District National Park with stunning views over the city of Sheffield.

It is hugely important for us to be able to offer true environmental value to our city by preserving green space that supplies a source of clean air and provides a natural habitat for local wildlife.
Throughout the seasons we are privileged to be home to many of the city's beneficial insects such as bees, hoverflies, moths, butterflies, ladybirds and more. We have visiting mammals of all sizes from mice, badgers and foxes through to some magnificent red deer. Our woodland is also an important nesting site for many birds in the local area.
Sourcing yourself a locally grown real Christmas tree that is 100% renewable and 100% recyclable gives you the opportunity to help support your local wildlife and minimise your Christmas' carbon footprint.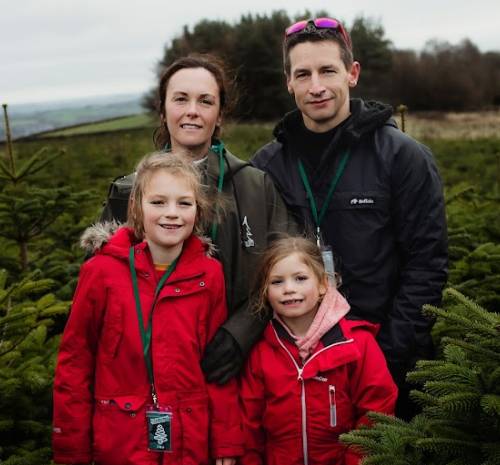 THE EXPERIENCE
Arriving
Make sure you wrap up warm and wear appropriate outdoor footwear or wellies. Parking is available along Whitelow Lane opposite the Sheffield Christmas tree farm.
Exploring
Enjoy a festive walk through our live Christmas trees. Explore the beautiful plantation and choose yourself a Christmas tree that is the right size and shape for your home.
Selecting
Every tree has been tagged with a coloured label that relates to size and price of that tree. Select your tree and pull off the perforated white ticket attached to the end of the label.
Cutting
Hand this ticket to a member of @GrowMeTrees staff and your tree will be cut and carried back to our cabin to be wrapped in 100% biodegradable netting for you to take home.
Nothing starts the festive season off better than the smell of a real fir tree in your home. Having a freshly cut real Christmas tree provides you with the best opportunity to keep your tree looking perfect throughout the Christmas period with minimal needle drop.
The carbon footprint of a locally grown real Christmas tree compared to an artificial tree.
The percentage of UK households that use real Christmas trees verses artifical trees.
The percentage of the UK's real Christmas trees still unnecessarily imported from abroad into the UK each year.
We have Nordmann Fir available this year with several varieties of Christmas Trees to choose from in future years. All have been meticulously nurtured all year around so that they are ready for the big day including Nordmann Fir, Fraser Fir, Noble Fir and Blue Spruce. Pot grown trees will also be available soon.
VIEWS OF THE FARM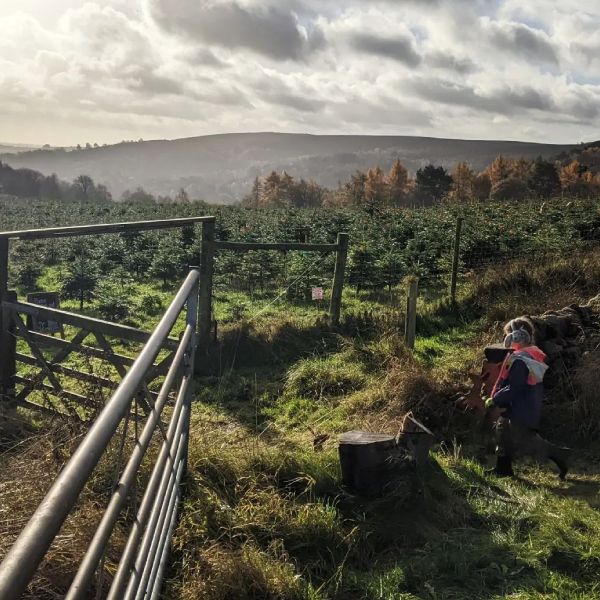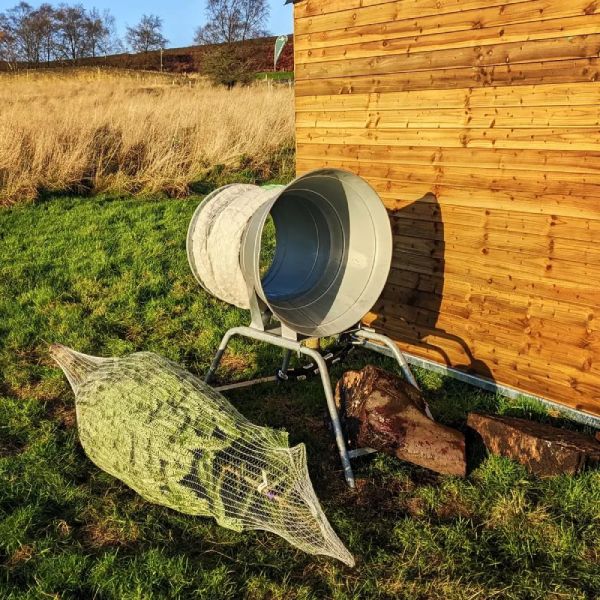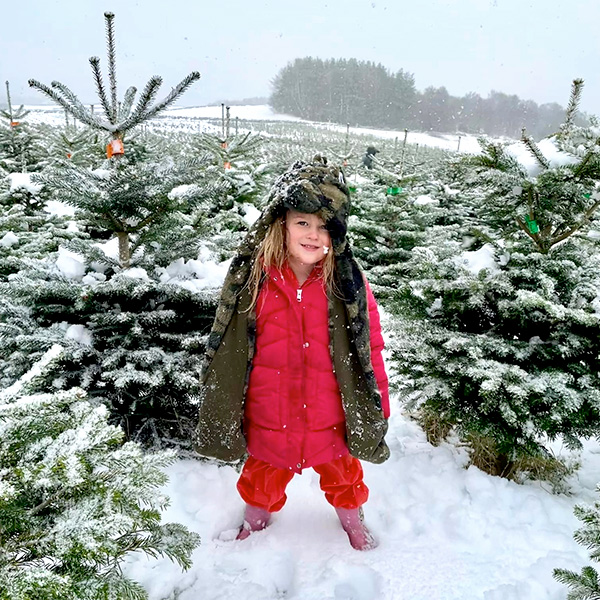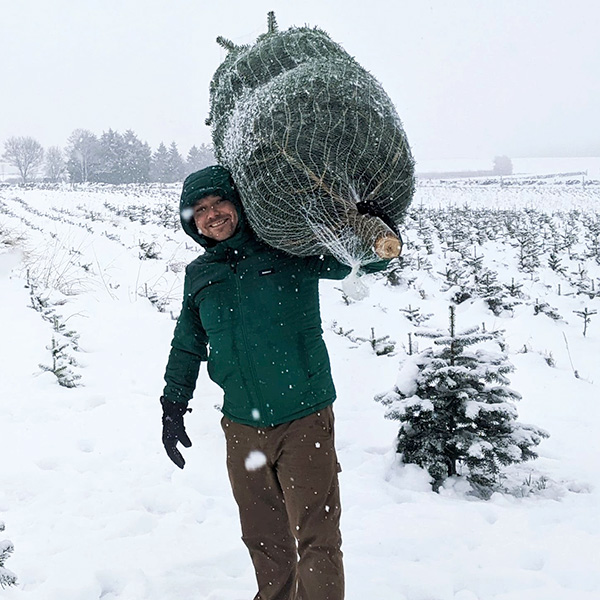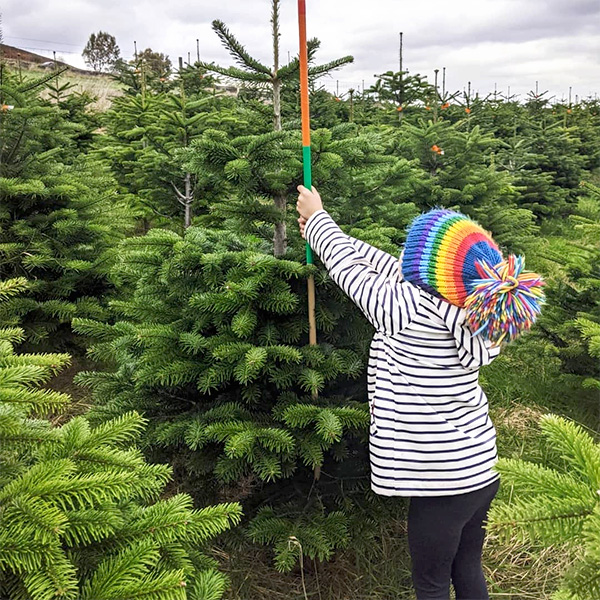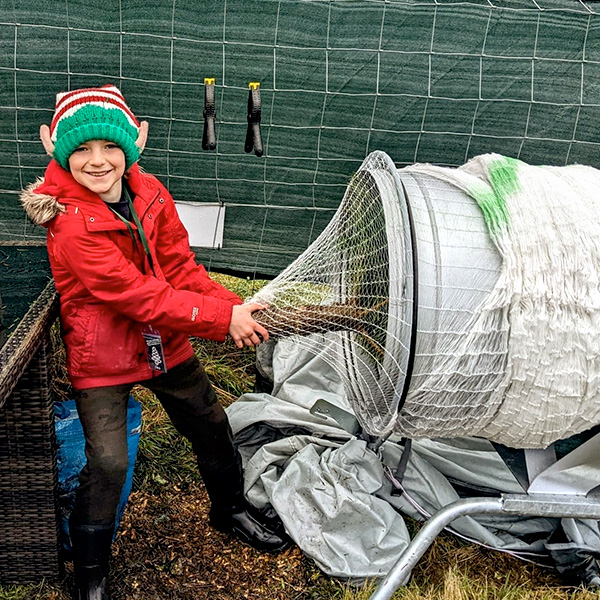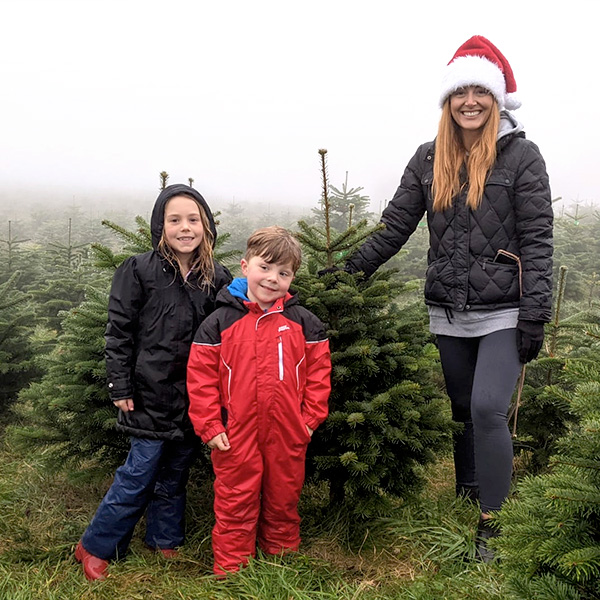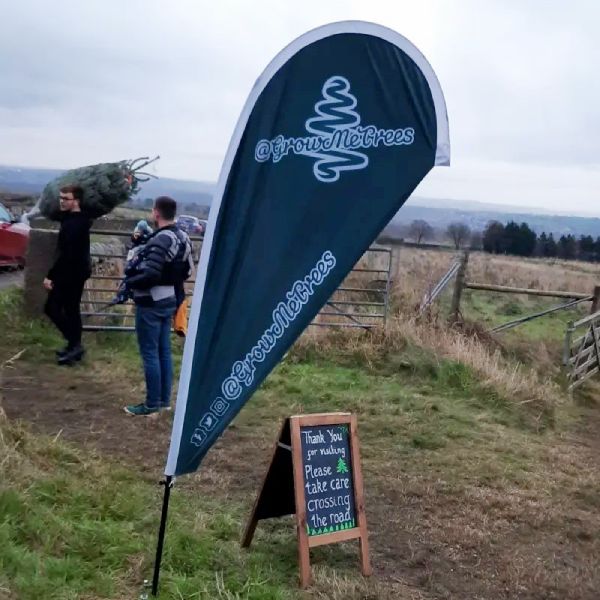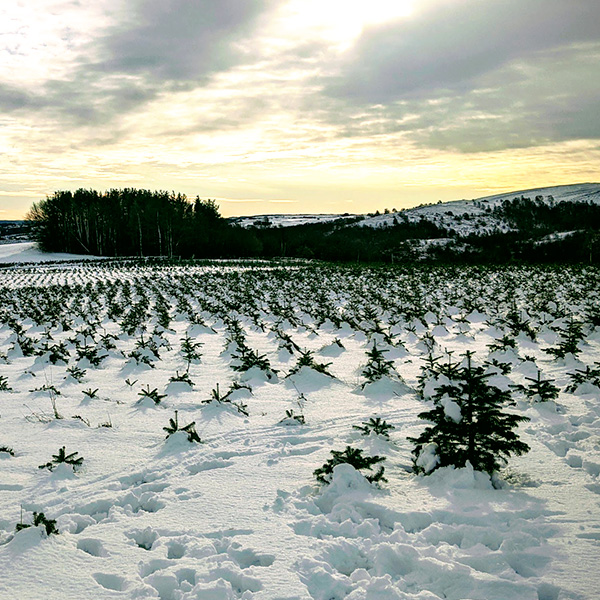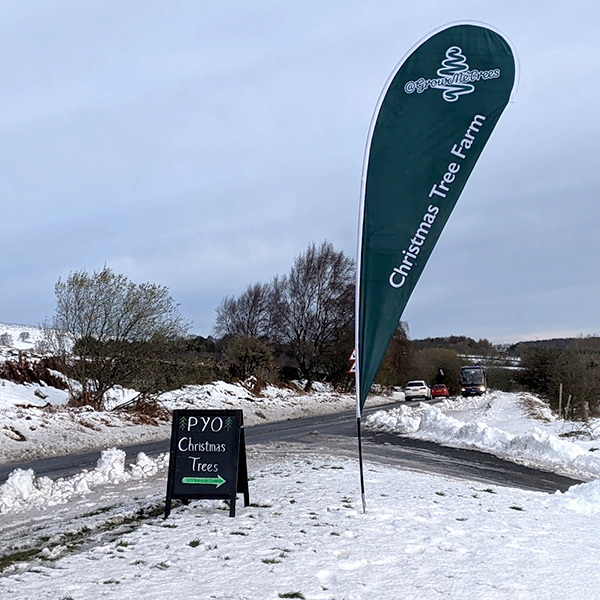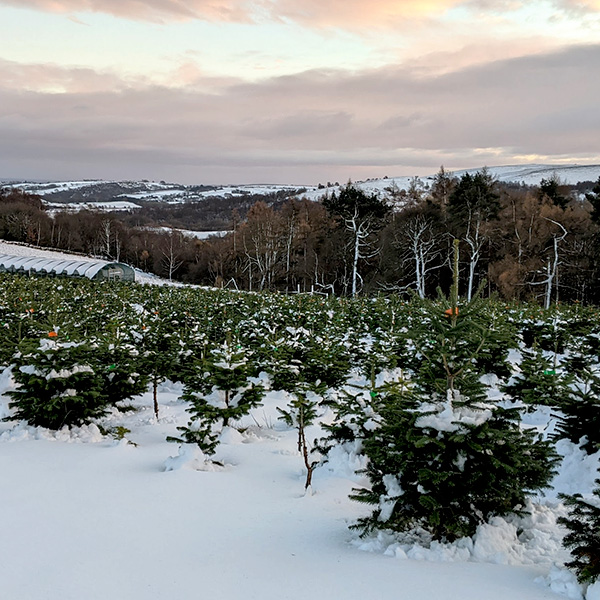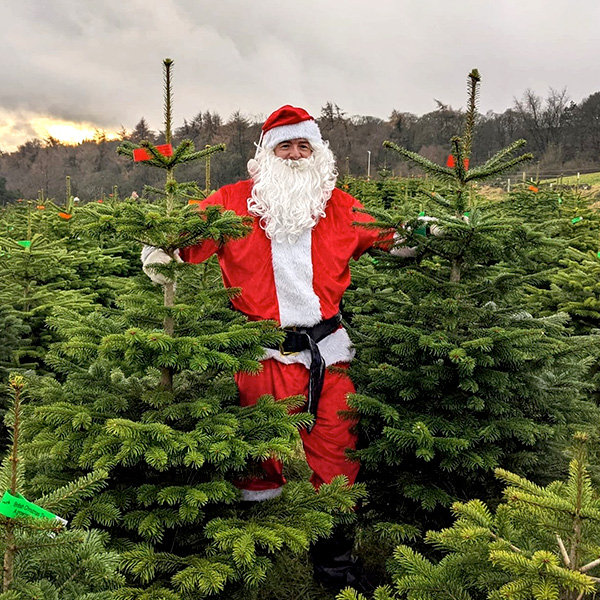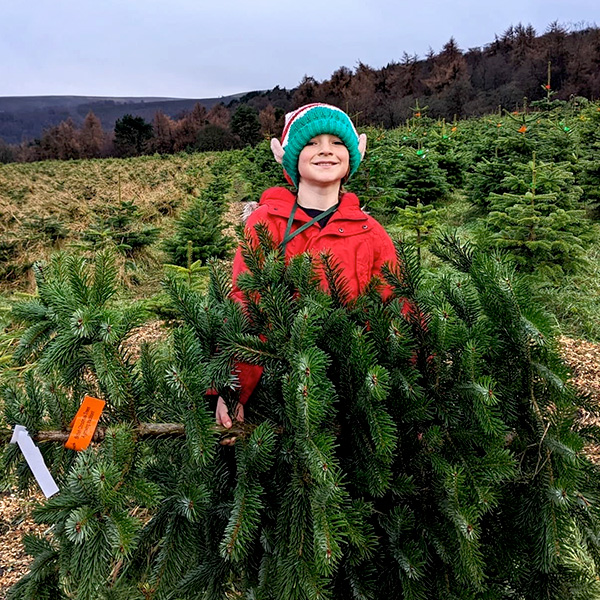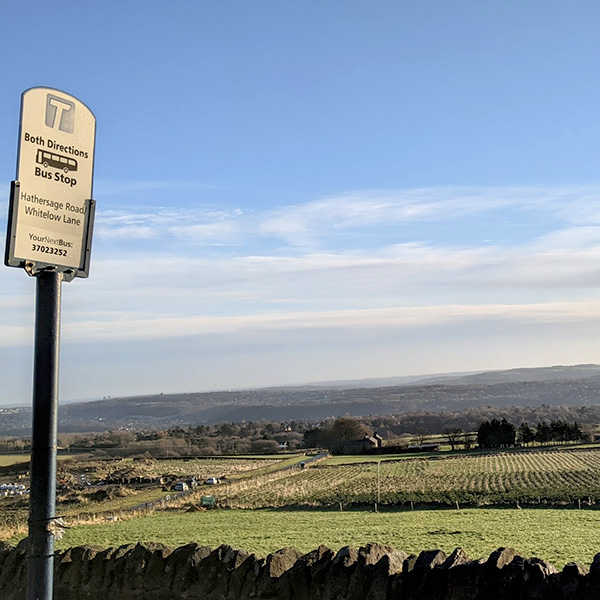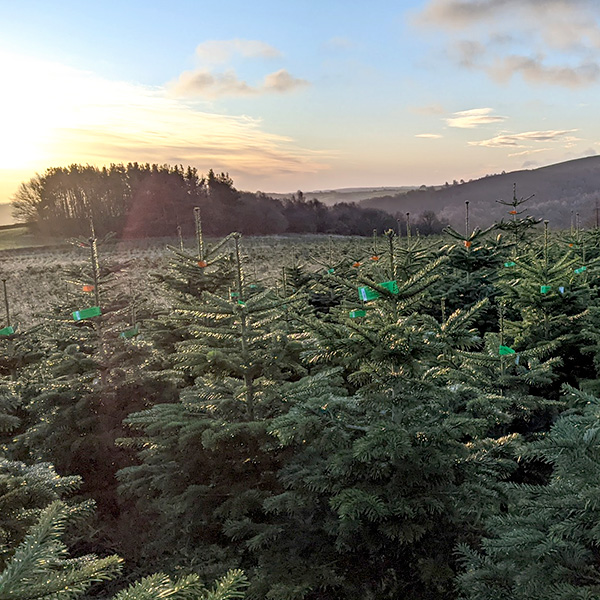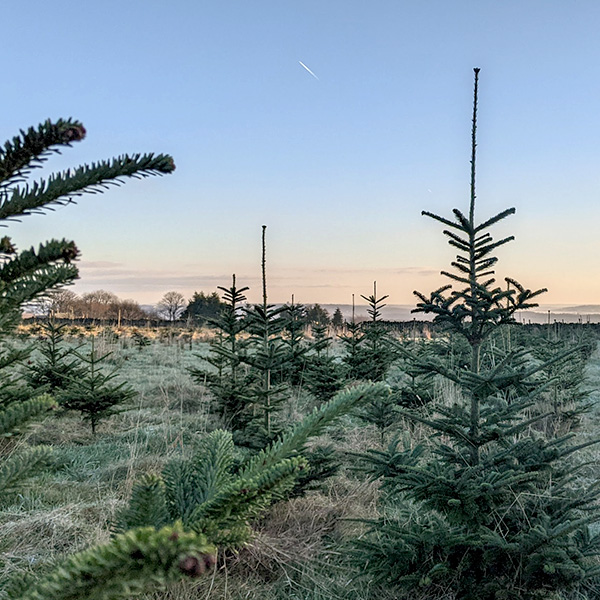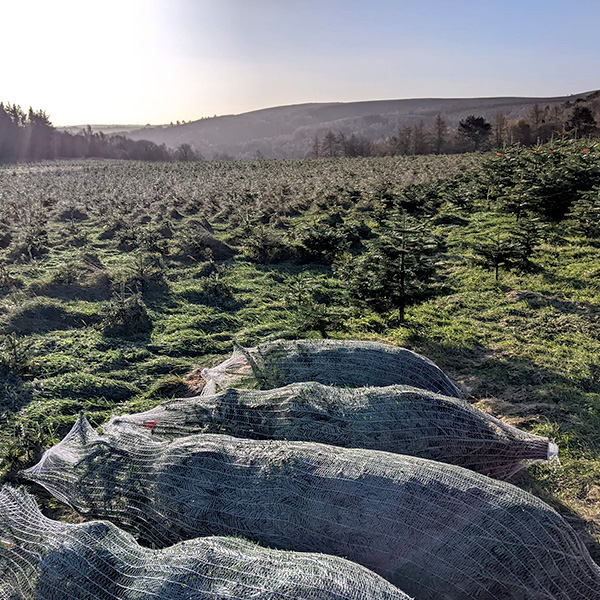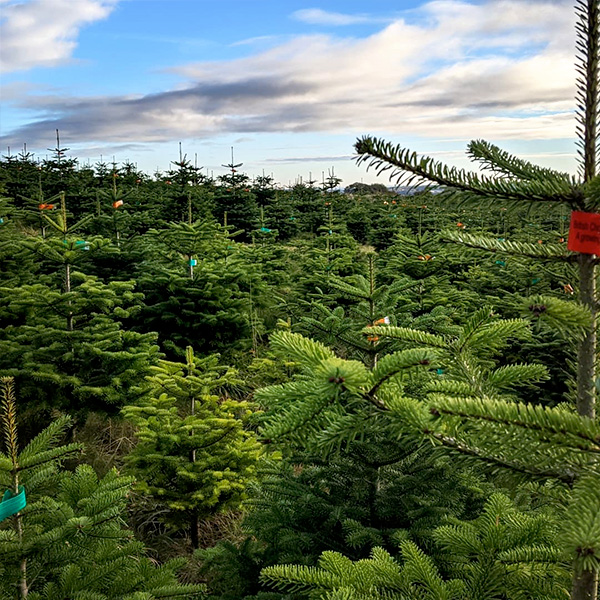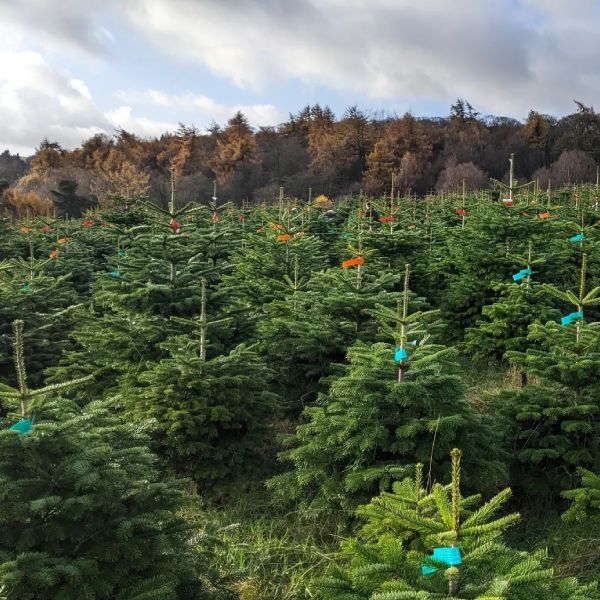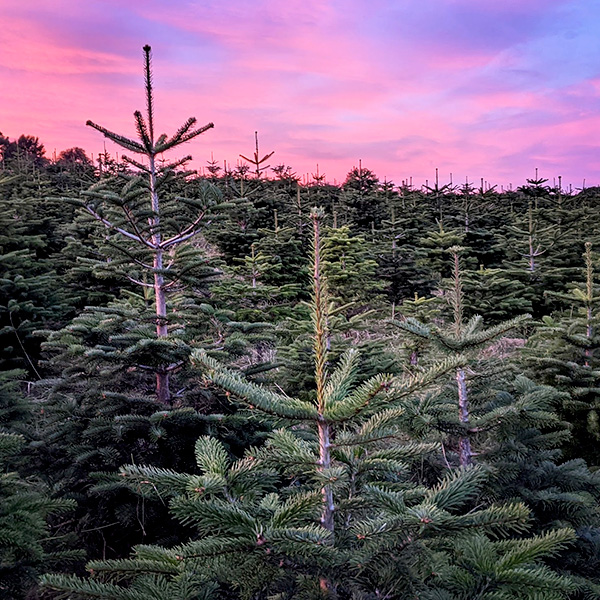 Trim the base
If you have let your freshly cut tree stand for a few days then sawing half an inch off the trunk of your Christmas tree is a good idea to remove any hardened sap that may have built up and ensure it is able to absorb plenty of water to stay fresh and green throughout Christmas.
Choose your location
Try to minimise the shock of relocating your tree from being outside in the cold air and let it aclimatise to the full heat of your home. Try to position it a good distance away from any radiators as constant or fluctuating heat can dry your tree out very quickly.
Watering
Ensuring the base of your Christmas tree is submerged in water at all times is key to keeping it alive. A Christmas tree can drink over 3 pints of water a day so check it daily and try to use a good tree stand that is easy to access that can hold plenty of liquid. 
No gimmicks
You may have heard that you need some special tree food or that a fizzy drink might help to keep your Christmas tree alive. Don't believe a word of it. Your beautiful tree simply wants a constant supply of fresh water to keep it with happy and healthy needles.